When we think about movers in an area like Austin, we tend to picture whole-house movers or perhaps even piano movers. However, most moving companies in Austin also offer a wide range of furniture-moving services. These services are convenient and cost-effective for a number of reasons. Sometimes you just need to move a piece or two, such as when a family member hands down a living room set. Other times, people want to let the moving company handle the big items while they move the smaller stuff.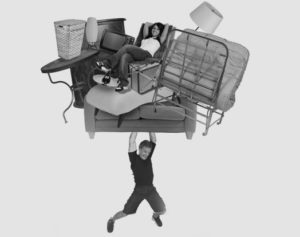 Paying to move a single piece of furniture probably seems like it would be an expensive venture, but that's generally not the case. Moving companies can limit overhead, such as labor and fuel costs, by scheduling multiple moves within an area together. In order to take advantage of these discounts, it does require a little flexibility on the part of the client, but the demands aren't too bad in a big area like Austin. Typically, they come on time, in a two-person team, put a professional wrapping on the furniture and are then gone within moments, on the road toward the destination.
The biggest problem with hiring professional furniture movers is ensuring that you're paying a fair rate and are getting a service that is honest and reliable. This isn't as easy to do as you might imagine. The relocation industry in Austin is lucrative, and moving furniture is a fast, low-investment way to turn a quick buck. Because of that, the area has many less-than-reputable services that are in it to do just that. The problem with these operations is that when damage occurs, they don't stand by the customer, and the client has little recourse other than a lawsuit, which generally isn't worth it in this scenario.
The alternative to choosing your furniture movers at random or simply paying more for the biggest name is to research and interview these moving companies individually. The problem here is that this is a huge time commitment, and it requires a lot of effort. This is a commitment that most people won't make when relocating the entire home let alone a single piece of furniture. So at Austin Movers, we saw an opportunity to connect our clients with the furniture movers that merited their business.
Furniture Movers in Austin
We already had the Austin moving company network in place. All we had to do was broaden it to account for furniture movers or large companies that had small-move services. As with our core service, the difference between it and many of the other relocation quote systems available on the Web is that we carefully choose the furniture movers. Most similar systems are just big directories, not much different from the Yellow Pages, and they even allow the furniture movers and other service to buy their way to a more prominent place in the listing.
At Austin Movers, we believe in honesty and integrity, and our system reflects that. The companies we list are there because they've earned it. These furniture movers have established themselves within the Austin area, and have earned impeccable reputations for customer service. Our partners stand by their work even when accidents happen and they have to replace your possessions. That's our commitment to you, and it lets you choose furniture movers without all of the stress that's normally associated with the process.
You might wonder what it is that makes us uniquely qualified to build and maintain such a system. It's a fair question, and we're proud to answer it. Our team members are people with lots of industry experience and real relocation expertise. We've been there in Austin, and all over the country, from the ground floor to the top floor, learning how to tackle relocation challenges, and learning how to be a successful moving company in a highly competitive business. Now, we're taking all that knowledge, and we're putting it to work for you.
You also probably expect our system to pair you with the right furniture movers at a fee, but our network doesn't work that way. We don't charge you anything at all, and we don't even require an obligation. You can use our report to get a better deal elsewhere, if that's possible, and you won't owe us a thing. All you have to do is take a minute or two to fill out a brief form. We only ask for the information that we need to provide you with a precise quote, and we'll never use that information for any other purpose.
Once you've filled out the form, the system will provide you with a list of furniture movers that fit your needs along with quotes for each of them. The quotes are good for thirty days, and if you need more time, you can come back here to update the form. Take your time, and when you're ready, we'll be here to assist you in any way possible. Also, make sure to explore the rest of our website. We offer a wide range of relocation guides and resources that will help you save a great deal of money and time.