Cost – Dumpster Rentals in Austin, TX
In most cases, you will need a dumpster that is one size larger than you thought. Flooring, scrap wood, and drywall are all waste products that take up space. Concrete, rock, and dirt have a higher weight to volume ratio. Most dumpster rentals have convenient swinging doors on the back so you can easily load them. All of the containers fit easily in the driveways of most homes or on a job site. Many people believe that renting a dumpster is a difficult decision, but it does not have to be. Dumpster companies offers three different container sizes to better meet your needs.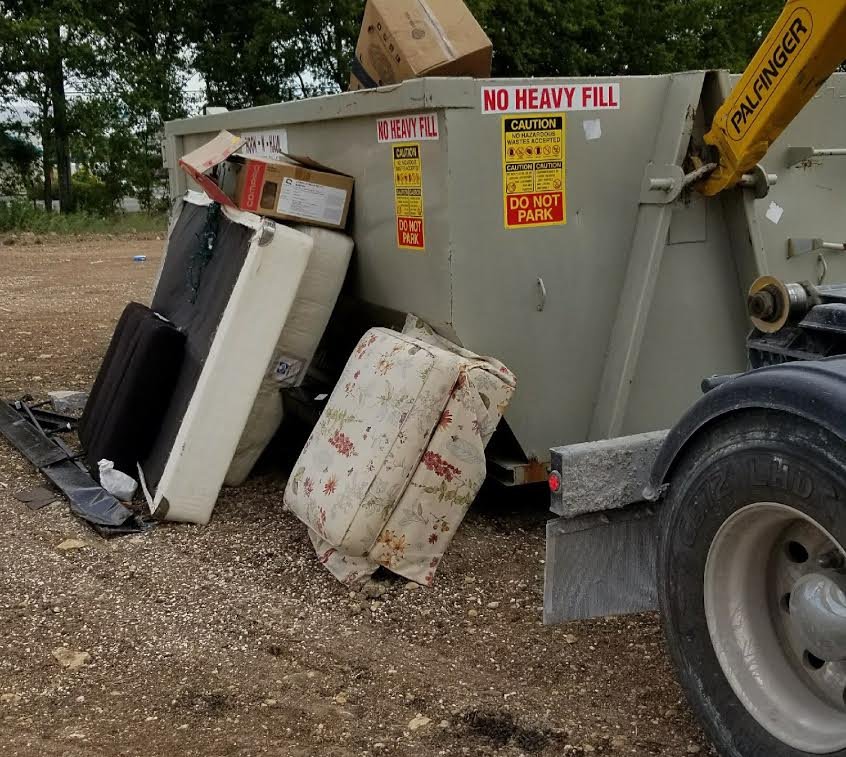 What size Dumpster Do I need?
If you're looking for a roll-off dumpster, consider what you're throwing away as well as the size of your project. If you're cleaning out a spare bedroom or remodeling a half bath, a small 10 cubic yard dumpster will suffice, whereas large home cleanouts and demolition jobs may necessitate a 40 yard container to manage the weight of your debris. We'll assist you in determining how much dumpster volume you'll require to complete the job. We'll assist you in selecting the appropriate size at an all-inclusive price that includes delivery, disposal, your rental period, and a generous weight limit.
10 Yard Roll off Container
(10 feet long X 8 feet wide X 4 feet high)
This would be perfect for a small garage cleanout or a one room remodel. If you are disposing
of concrete, asphalt, dirt or sand we can give you flat rate pricing in this size container. Although the dimensions may differ slightly, all 10 yard dumpster rentals have the same capacity and volume of 10 cubic yards. A 10 yard dumpster has a capacity of 10 cubic yards. That is roughly the size of four pickup truck beds.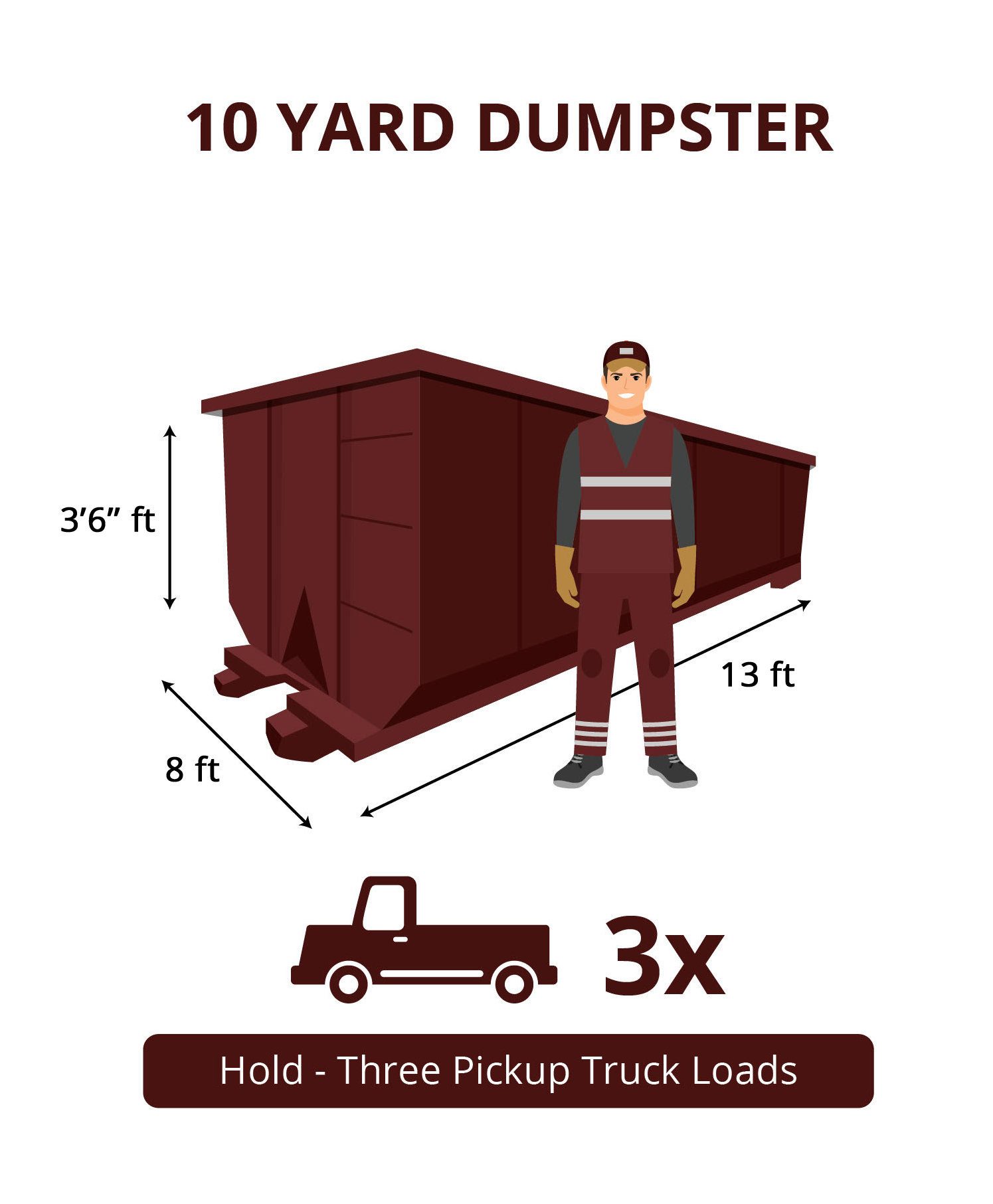 20 Yard Roll off Container
(22 feet long X 8 feet wide X 4 feet high)
If you're tearing out a couple of rooms or a kitchen this should fit all of the debris with ease. A 20-yard dumpster can typically hold 2-3 tons (4,000-6,000 pounds). When you place your order, our team will explain the weight capacity included with your 20 yard dumpster price over the phone. If you have any questions during your rental, please contact us.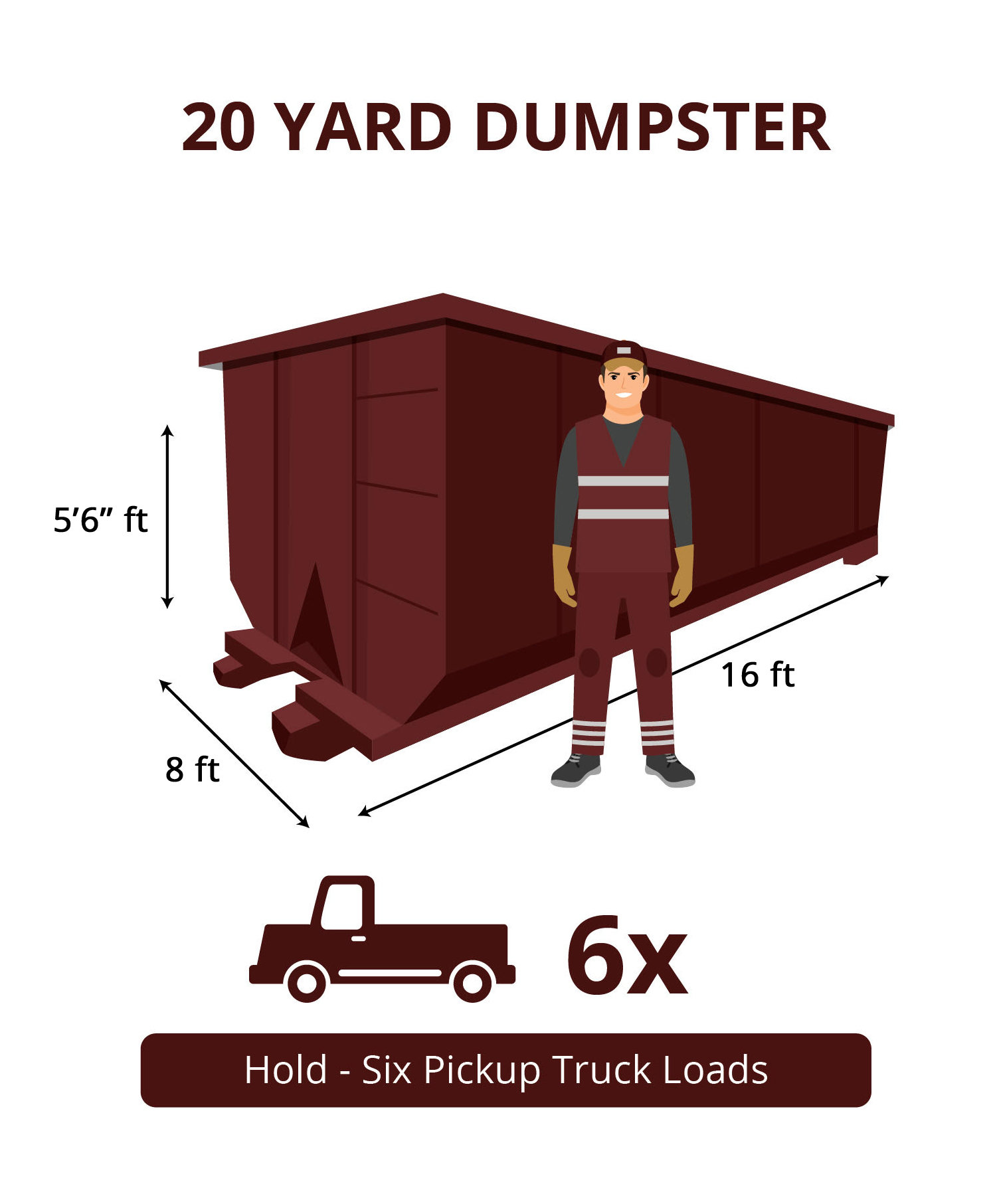 30 Yard Roll off Container
(22 feet long X 8 feet wide X 6 feet high)
The largest dumpster is the optimal size for whole house remodels or a large cleanout. You can
fit carpeting, drywall, and wood in a thirty yarder with no trouble. A 30 yard dumpster is perfect for medium-sized cleanouts, light demolition debris, and whole-room remodels. It can hold a wide range of materials, including bulkier household items such as furniture and appliances.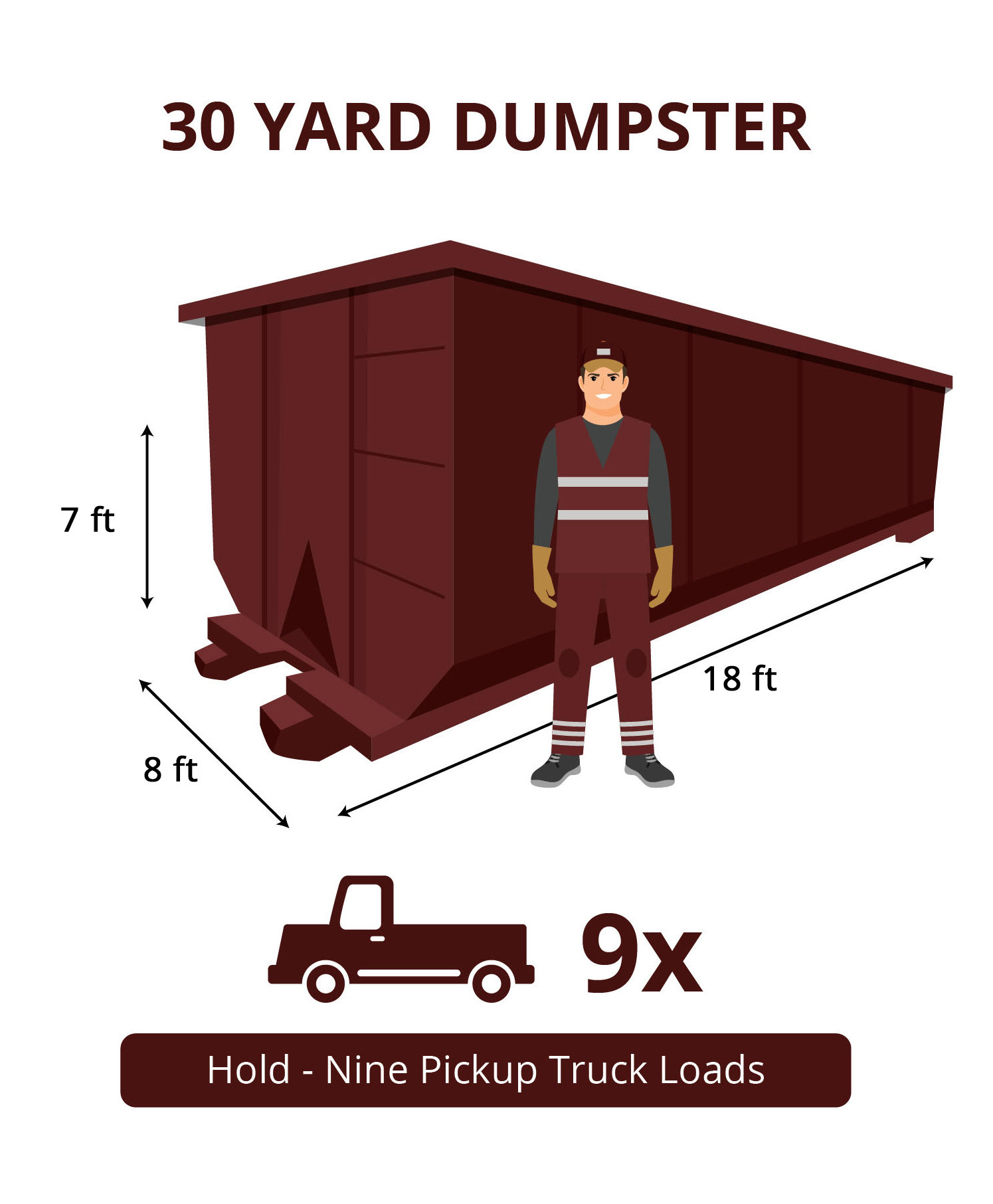 Choosing the right dumpster size is critical to keeping your project on track and within budget. A container that is too large for your job may cost you more than you need to, and overloading a small bin may result in additional fees. Our team will assist you in selecting the best bin for your needs. Source: youraustincommunity.com/top-dumpster-rentals
How much does it cost to rent a dumpster in Austin?
Local dump fees, dumpster size, rental period, and other factors can all affect dumpster rental pricing. The cost of a dumpster in Austin ranges from $595 for a 20-yard dumpster to $646 for a 40-yard dumpster. Delivery costs in the city average around $150, depending on distance from the landfill, dumpster size, and current gas prices. Other fees, such as the $45 application fee for Austin dumpster permits paid to the City of Austin (COA, can also have an impact on pricing. Here is a breakdown of Austin's dumpster prices based on size:
10 Yard Dumpster (Small Projects) $595-$646
20 Yard Dumpster (Household): $625-$717
20 Yard Dumpster (Construction):  $633-$674
30 Yard Dumpster:  $675-$725
40 Yard Dumpster: $735-$815
The cost will vary depending on the size of the dumpster rented and the type of debris thrown away. Many rental companies combine delivery, pickup, taxes, and a covered weight limit into a simple rate, but please keep in mind that exceeding the tonnage allowance, throwing prohibited items, or keeping the dumpster longer than the provided rental period will result in an additional charge.
* What is the purpose of the price range? The pricing shown above is based on actual data from finished Austin dumpster rentals, and it may vary depending on stock levels, seasonality, type of debris, and other factors.
When Do You Need a Dumpster Rental Permit?
Dumpster permits are typically only required if your roll-off container will be placed directly on a street, sidewalk, or other public property. These are also known as street or right-of-way permits, and they are issued by your city's public works or building department.
You will not need a street permit if you place your dumpster in your driveway or a privately owned space. Before placing a dumpster on a residential street, you may need to obtain permission from your neighborhood's homeowners association.